Gemini Five – Sex Drugs Anarchy
Release: 02.05.2008
Label: Sound Pollution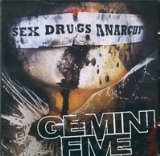 Gemini Five
setzten mit ihrem im Mai erschienenem dritten Album
Sex Drugs Anarchy
auf altbewährtes, was durchaus nicht schlecht sein muss. Denn wie von der Stammbesatzung bereits bekannt, ist die Musik der Schweden vor allem eins: Rock pur.
Der Opener des Albums
Thunder And Lightning
ist ein reines Instrumentalstück, das den Zuhörer mit ruhigen Gitarrenriffs begrüßt, welche zum Ende hin deutlich an Tempo zulegen um nahtlos in den zweiten Track
I Am Hollow
überzugehen.
Scream 4 Me
ist für mich noch der mit eingängigste Track auf dem Album, zu dem nun auch vor kurzem das Video erschien, das die Schweden dort zeigt, wo sie sich am wohlsten fühlen: Auf der Bühne. Nach dem passenden Titelsong
Sex Drugs Anarchy
hört auch schon die Aufzählung der – zumindest für mich – erwähnenswerten Liedern auf. Achtet man nicht genau auf die Übergänge zwischen den Tracks, kann es einem gut passieren, dass das Album an einem vorbeiplätschert ohne groß wahrgenommen zu werden. Eigentlich eine Schande, ist man von den Vorgängeralben doch bei weitem besseres gewohnt. So fehlt für mich auch die typische Gemini-Five-Ballade auf der Scheibe, wie z.B.
Silent Night
von dem
Black-Anthem
-Album oder
The Chemical Between Us
von
Babylon Rockets
.
Alles in Allem ist
Sex Drugs Anarchy
eher Hintergrundmusik, die dennoch ihre wenigen Stärken hat.
Melle/Rockinwords
www.myspace.com/geminifive
www.geminifive.com
Rockinrecords: Gemini Five – Sex Drugs Anarchy