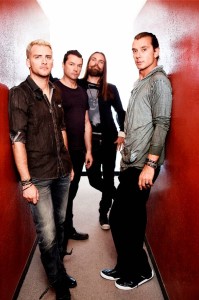 Mit "Man On The Run" veröffentlicht die englische Alternative-Rockband Bush am 17. Oktober ein neues Studioalbum. Mit dem Longplayer, der u.a. die Single "The Only Way Out" enthält, gibt die Formation um Sänger und Frontmann Gavin Rossdale, ihren Einstand bei Sony Music. Die Aufnahmen fanden in der Besetzung Rossdale (Gesang, Gitarre), Chris Traynor (Gitarre), Corey Britz (Bass) und Robin Goodridge (Drums) unter der Regie von Grammy-Preisträger Nick Raskulinecz (Mastodon, Deftones, Foo Fighters, Alice In Chains) in Dave Grohls Studio 606 im kalifornischen Northridge statt.
"Man On The Run" ist der Follow-Up zu "The Sea Of Memories" aus dem Jahr 2011, mit dem Bush eine zehnjährige Veröffentlichungpsause beendeten. Das Album erreichte Platz 18 der US Billboard Charts und die Top 30 der deutschen Media Control Longplay Charts. Darüber hinaus schrieb die Band mit der Leadsingle des Albums, "The Sound Of Winter", US-Musikgeschichte: es war die erste selbstveröffentliche Single, die die Spitze der Alternative Rock Radio Charts erreichte.
In ihrer Karriere verkauften Bush alleine in den USA und Kanada mehr als zwanzig Millionen Tonträger. 2014 jährt sich die Veröffentlichung ihres Debütalbums "Sixteen Stone" zum 20. Mal, das Platz vier der US Billboard Charts erreichte, in den USA mit 6-fach-Platin ausgezeichnet wurde und die Hitsingles "Comedown", "Glycerine" und "Machinehead" hervorbrachte.
www.bushofficial.com
www.facebook.com/BushOfficial

BUSH: Neues Album "Man On The Run" erscheint am 17. Oktober