You Me At Six – Night People
Release: 06.01.2017
Label: Infectious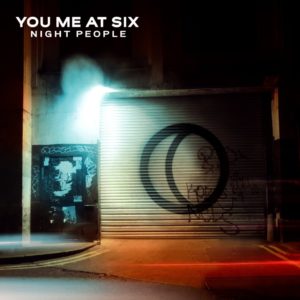 Das Jahr 2017 ist erst ein paar Tage alt, da hauen die Briten von You Me At Six ihr fünftes Studioalbum raus: Night People heißt es. Und ja: Die Lieder sind so einfallslos wie der Titel vermuten lässt, auch wenn ich damit das Fazit schon vorwegnehme.
Das Problem bei You Me At Six liegt zum einen an ihrem Sänger Josh Franceschi, der auf diesem Album wohl die schlechteste Figur seit langem abgibt. Seine Tonhöhe und die Tonabfolge in seinem Gesang scheinen von Lied zu Lied nur minimal zu variieren und von den vielversprechenden Shouting-Einlagen und kleinen Stimmexperimente der Vorgängeralben ist nichts mehr zu hören.
Zum anderen scheint es so, als hätten sie sich damit zurechtgefunden, Songs für junge Schulmädchen zu schreiben, die glauben, es handle sich hier um ernstzunehmende Rock-Musik. Aber das gilt für den musikalischen Teil genau so wenig wie für den lyrischen. Letzteres findet man auf dem Titeltrack Night People ganz gut zusammengefasst:
It's what you want (it's)
It's what you need
It's what you want (it's)
It's what you need
We are night people roaming the streets
Night people, we get what we need
Da möchte man dem Rock'n'Roll direkt helfen, sich im Grab umzudrehen. Balladen wie Take On The World klingen einfallslos und überproduziert, allerdings kann man sich sofort vorstellen, wie in der Wembley Arena dazu das Licht ausgeht und tausende Teenager eifrig mit ihren Smartphones die Beleuchtung übernehmen.
Es gibt nur ganz wenig, was auf diesem Album heraussticht. Swear z.B. lässt den jugendlichen Charme der ersten YMAS-Alben aufleben, es ist beschwingt und unbeschwert. Auf der anderen Seite dann der letzte Song der Platte: Give – welches ruhig ist, emotional und nicht so durchkalkuliert wie die anderen Songs. Was vor allem daran liegt, dass Josh Franceschi hier einmal aus seiner Comfort Zone tritt und seiner Stimme einiges abverlangt.
Fazit:
Die Band steht und fällt hier leider mit ihrem Sänger. Und wenn der keine Spannung in die Sache reinbringt, ist der Rest der Band – so gut ihr musikalisches Können auch sein mag – nicht in der Lage, das auszugleichen. Vielleicht haben YMAS mit dem Album genau das geschaffen, was sie wollten, und können an ihre bisherigen Erfolge anknüpfen. Vielleicht ist das hier aber auch das Album, auf das sie in 2 Jahren zurückblicken und denken: "Oh my God what have we done?"
Penny/Rockinwords
http://www.youmeatsix.co.uk/https://www.facebook.com/youmeatsix/about/
Rockinrecords: You Me At Six – Night People