Deaf Havana – All These Countless Nights
Release: 27.01.2017
Label: So Recordings (rough trade)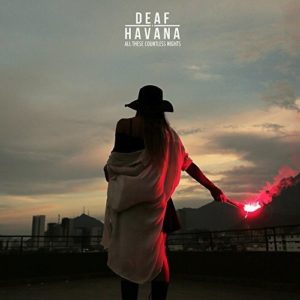 Wer in der dunklen Jahreszeit eine Sache richtig machen möchte, sollte sich schleunigst das neue Album von Deaf Havana besorgen. Die Briten um Frontmann James Veck-Gilodi bringen mit All These Countless Nights ihr wohl bis dato bestes Album auf den Markt.
Wenngleich das Album nicht die typischen emo-esken Texte mit sich bringt, ist alles irgendwie gereifter, reflektierter und – was neu ist – überraschend melancholich-optimistisch. Der Opener Ashes, Ashes fängt sehr ruhig und akustisch an, bevor sich die Instrumente immer wieder ekstatisch steigern, um in den bereits veröffentlichten Track Trigger überzugehen. In besagtem Song verarbeitet Veck-Gilodi eine alte Trennung, bei der die beiden Hauptprotagonisten durchaus wussten, dass das Ende ihrer Beziehung gekommen war. Doch niemand traute sich auf den "Auslöser" zu drücken und einen Schlussstrich zu ziehen. Textlich kein Meisterwerk, aber absolut ausreichend, um Fans im zweiten Track des Albums abzuholen und für die restlichen Tracks zu fesseln.
Happiness ist einer der Songs, der den "neuen" Weg von Deaf Havana am besten aufzeigen kann. Während die Melodien von einer positiven Grundstimmung durchzogen sind, werden textlich Zweifel und die Beziehung zum ausschweifenden Genuss von Alkohol in den letzten Jahren reflektiert, bis am Ende doch nur eine Erkenntnis siegen kann: "All the time it takes to build the trust right back up, isn't worth a single drop or glass of anything, and I don't want anything, but you".
Generell sind die 12 Songs durchzogen von solchen Momenten, in denen Veck-Gilodi sein Verhältnis zum Alkohol beschreibt, aber nicht gewohnt klagend und in Selbstmitleid ertrinkend, sondern nüchtern und in gewissem Maße auch erwachsen. St. Paul's ist der Track, der den Albumtitel All these Countless Nights perfekt zusammenfasst: "I've got a past I want to leave behind" .
Fazit:
Das vierte Studioalbum der Briten tropft nur so vor Talent, Herz und Leidenschaft für ihre Musik. Kleine Schritte hier und da aus ihrer Komfortzone bescheren uns allen ein wundervolles Album, das zeigt, dass sich so manches Risiko lohnen kann. Absolut empfehlenswert!
Siss/Rockinwords
www.deafhavanaofficial.com
www.facebook.com/deafhavana
Rockinrecords: Deaf Havana – All These Countless Nights