Die Geschichte des Country Sängers Hank Williams.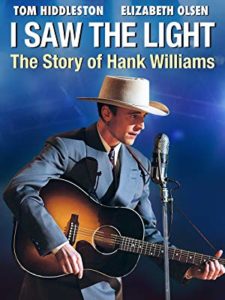 Inhalt:
Dieser Film zeigt die Geschichte des ebenso talentierten wie schwierigen Country-Sängers Hank Williams, der im Laufe seines kurzen Lebens zu einem der einflussreichsten Komponisten und beliebtesten Musikers der USA wurde. 'I Saw the Light' ist auch eines der bekanntesten Lieder des Sängers, mit dem er seinen ersten Hit hatte. Der Film folgt seiner steilen Karriere und den tragischen Folgen: Während sich der Erfolg als Sänger einstellt, leidet Hanks Privatleben unter seiner Drogensucht. Seine Gesundheit verschlechtert sich und er stirbt mit 29 Jahren.

Darsteller:
Tom Hiddleston: Hank Williams
Elizabeth Olsen: Audrey Williams
Cherry Jones: Lillie Williams
Bradley Whitford: Fred Rose
Maddie Hasson: Billie Jean Jones


Fazit: ähm okay 2/10
Ich mag Musikfilme. Ich erwartete sowas wie "Walk the line" über das Leben von Johnny Cash.
Dieser Film wurde aber meinen Erwartungen nicht gerecht. Ich mag die Kameraführung überhaupt nicht. Der Film kommt die ganze Zeit so deprimierend rüber, was wohl der Lebensgeschichte von Hank Williams entspricht. Außerdem fehlte der Fluss -eine Story- im Film, es waren nur einzelne Episoden aus dem Leben von Williams. Würde es daher eher als "Dokumentation" einstufen und nicht noch einmal ansehen. Nicht jedes Leben einer Musiklegende ist es wert verfilmt zu werden.
Allerdings hat mir Tom Hiddleston hier sehr gut gefallen!
Nadine für Rockinwords
Rockinmovies: I Saw the Light