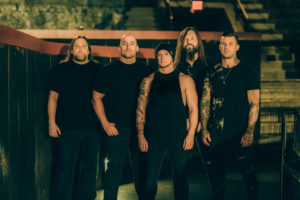 Trotz ihres kompromisslosen Sounds und der Leidenschaft für kantige, druckvolle Produktionen gehören All That Remains aus Springfield/Massachusetts seit vielen Jahren zu den Top-Sellern des Metalcore. Ihr aktuelles achtes Album "Madness" ist das fünfte in Folge, das in die Top 50 der Billboard Charts sowie in die Top 10 der US-Rock-Charts einstieg, begleitet von der gleichnamigen Single, die es bis auf Platz 11 der US-Mainstream-Rock-Charts brachte. Und so nähern sich All That Remains immer mehr der magischen Grenze von einer Million verkaufter Tonträger. Ein weiterer Beleg für die besondere Fähigkeit des Quintetts, einen intensiven Stil mit beachtlicher Breitenwirkung in Einklang zu bringen. Im Dezember kommen All That Remains für drei Konzerte nach Deutschland, um ihre kraftvolle Interpretation modernen Metals live zu präsentieren:
10.12.2018 – Luxor, Köln
11.12.2018 – Columbia Theater, Berlin
17.12.2018 – Backstage Halle, München
All That Remains – Auf Tour im Dezember!