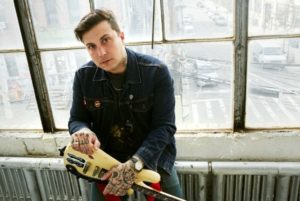 Nachdem sie kürzlich ihr neues Album Barriers veröffentlicht haben, kündigen Frank Iero and The Future Violents eine Co-Headliner-Tour durch Europa an. Mit von der Partie: Laura Jane Grace and The Devouring Mothers.
Frank Iero über die anstehende Tour: "Ich freu mich so sehr, mit unseren Freunden Laura Grace Jane and The Devouring Mothers in den nächsten Monaten auf Tour zu gehen! Es sind tolle Leute, fantastische Musiker und sie haben eine meiner Lieblingsplatten im letzten Jahr rausgebracht. Ich denke, dass wir ein paar unglaubliche Shows zusammen spielen werden!"
Frank Iero and The Future Violents sind Frank Iero, Evan Nestor, Matt Armstrong, Tucker Rule und Kayleigh Goldsworthy. Barriers wurde von Steve Albini aufgenommen und gemixt und kam am 31. Mai 2019 via UNFD raus. Hier könnt Ihr Euch die Single Young and Doomed anschauen:
Und hier sind die Tourdaten:
03.09.2019 – Amsterdam, NL – Melkweg
04.09.2019 – Köln, DE – Club Volta
05.09.2019 – Hamburg, DE – Knust
06.09.2019 – Berlin, DE – SO36
07.09.2019 – Leipzig, DE – Conne Island
08.09.2019 – München, DE – Backstage Halle
Frank Iero And The Future Violents auf Tour!